Dr. Joachim Kaps live on chat!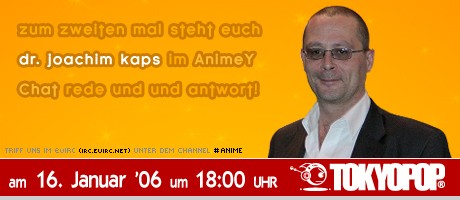 Dr. Joachim Kaps
2006-01-16 17:00
Dr. Joachim Kaps live on chat!
16. January 2006 - 06 PM: TOKYOPOPs managing director Dr. Joachim Kaps on AnimeY Chat.
In the USA TOKYOPOP Inc. is already the market leader in the limits of Anime and Manga, in Japan one of the market leaders.

On this account TOKYOPOP established in April 2004 a place of business in Germany with Dr. Joachim Kaps as managing director.
Dr. Joachim Kaps looks back on over 20 years publishing and marketing experience in the limits of the German comic market.

In his previous position as the business manager of Carlsen Comics he affected growth of Manga in Germany.
Now he strongly acts with TOKYOPOP on the development of Manhwa (Korean Comics) in this country.
For this reason and for the reason to answer questions about the new year 2006, Dr. Joachim Kaps will be available a second time on the AnimeY Chat, which is findable on euIRC (Channel #anime).
Links
http://www.animey.de/
http://www.tokyopop.de/
Back to event overview